VVARC's Community Service History
VVARC has a long history of community service. Most important is the accomplishments of our members. More than once we have provided communications in times of disaster and for search and rescue.
Other services we have provided over the years:
FCC amateur radio license testing
Adopt-a-Highway
Amateur radio demonstrations
Communications for parades, races, and other events
---
VVARC Ongoing Community Services
Club Sponsored Field Day/s
Field Day is a worldwide HF radio event.
Supported by the ARRL, VVARC sponsors a local event.

The Victor Valley Amateur Radio Club hosts two annual Field Days. The standard Summer Field Day in June and a new Winter Field Day in January.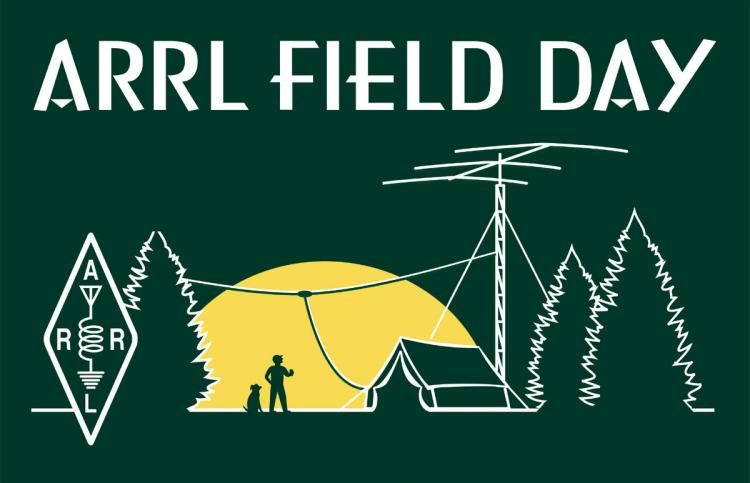 Field Day is an annual amateur radio exercise, widely sponsored by IARU regions and member organizations, encouraging emergency communications preparedness among amateur radio operators. In the United States, it is typically the largest single emergency preparedness exercise in the country, with over 30,000 operators participating each year.
Field Day stresses emergency preparedness. Frequently, entire radio clubs get involved and assemble a portable radio station in a field or park. Some might use quickly deployable portable antennas while other might erect more elaborate radio masts and towers supporting several antennas. Generators or solar power provide electricity to amateur radio transceivers, which may be located in tents, cars, recreational vehicles, or other portable shelters.
The contest aspect of a Field Day operating event is to contact as many stations as possible in the given time period (twenty-four hours, during a weekend, if setup commences before the contest starts, or 27 hours if setup commences at contest start time) using the portable station. Each station will exchange information with other participating stations. For the North American Field Day, the exchange consists of the station call sign, the name of the ARRL-recognized section from which the station is operating, and a class designator which indicates the number of transmitters concurrently used at the station and information about the type of electrical power source being used.
The contest portion of Field Day has two purposes. The primary purpose is to demonstrate the group's ability to plan operations that can be effective for an entire twenty-four-hour period, including operator endurance and adequate numbers of operators for a shift operation. The secondary portion is to demonstrate the technical proficiency of the station that has been hastily constructed for the purpose; in theory a better station will be capable of emergency operations in more dire conditions. Such a station will also be capable of making more contacts during the contest portion of Field Day.
The rules governing these activities are published by the sponsor of the particular Field Day exercise.
Annual Summer Field Day
(Normally the 4th full weekend in June) June 25th and 26th 2022; 1800 UTC, 11:00 PDT,Saturday and running through 2059 UTC, 13:59 PDT, Sunday




The 2022 Summer Field Day will be held at the Spring Valley Lake Community Building at 12975 Rolling Ridge Drive, Spring Valley Lake, CA 92395.

If you have any questions or wish to volunteer to help, contact any one of the VVARC Officers listed on the

Contact Page
---
Annual Winter Field Day
(Normally the 4th Saturday in January) January 28/29 2023; PLEASE NOTE that the VVARC will delay operations for TWO hours. SO we will begin set up at 1700 UTC; 09:00 PST On Saturday.

The 2023 Winter Field Day will be held at the Spring Valley Lake Community Building at 12975 Rolling Ridge Drive, Spring Valley Lake, CA 92395.

If you have any questions or wish to volunteer to help, contact any one of the VVARC Officers listed on the

Contact Page
---
Route 66 On-The-Air Special Event
0001Z 11 Sep 2021 - 2359Z 19 Sep 2021.
1701L 10 Sep 2021 - 1659L 19 Sep 2021 (Local CA time)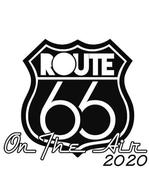 Route 66 stretches from Illinois to California and radio groups from all the states along the route participate. Our club operates with the special event call sign W6D.
Participation is easy. All Hams are invited to help. You operate out of your home using the special event call (Please ID yourself with your own call occasionally). People are trying to contact as many of the participating groups as they can, so you are the hunted. There are recommended frequencies in QST and we'll add some here as we approach the event.
You do have to keep a log of your contacts, in Zulu time. You do NOT have to do any QSL cards; the club handles any requests that come to the club mailbox.
VVARC
P.O. BOX 91
APPLE VALLEY, CA 92307-0869
We need to have operators on the air every day of the event. On weekends it's harder to get out through all the traffic; there are usually other special events going on the weekends, too. The participating clubs in the central part of the country get more contacts than we do out here in the far west, but we need to be on the air to represent our stretch of Route 66.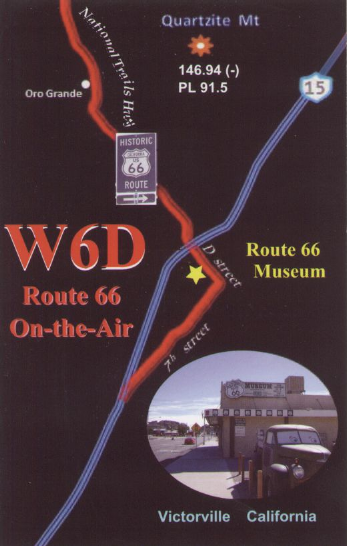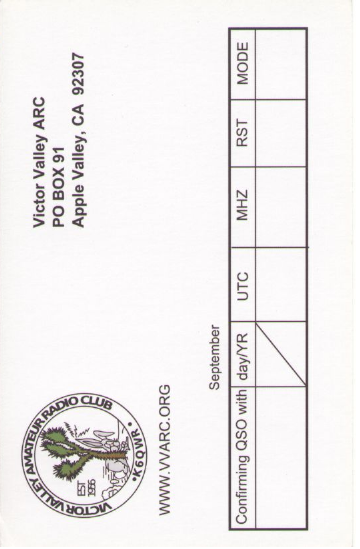 If you have any questions or wish to volunteer to help, you can contact Delvin, KJ6QYP listed on the
Contact Page
Or visit the Citrus Belt Amateur Radio Club -
www.w6jbt.org
---
JOTA
When Scouts want to meet young people from another country, they usually think of attending a World Jamboree. But few people realize that each year more than 400,000 Scouts and Guides "get together" over the airwaves for the annual Jamboree-on-the-Air (JOTA). Modern technology offers Scouts the exciting opportunity to make friends in other countries without leaving home.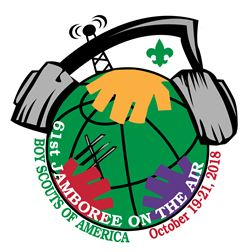 The Jamboree-on-the-Air, or JOTA, is an annual Scouting event that uses amateur radio to link Scouts in your community, across the nation, and around the world.
Modern technology offers Scouts exciting opportunities to make friends in other countries without leaving home. JOTA is an annual event in which Scouts and Guides of all ages and all over the world talk with each other using Amateur (Ham) Radio. They share scouting experiences and ideas via radio waves.
Each year more than half a million youth participate in JOTA. The World Scout Bureau reported that in 2011, JOTA had over 750,000 Scout participants from nearly 6,000 amateur radio stations. Since 1958 when the first Jamboree-on-the-Air was held, millions of Scouts have met each other through this event. Contacts made during JOTA have resulted in pen pals and links between Scout troops that have lasted many years.
The radio stations are operated by licensed amateur radio operators. Many Scouts and leaders hold licenses and have their own stations, but the majority participate in JOTA through stations operated by local radio clubs and individual radio amateurs.
JOTA 2021
check-in will begin at 1600 (4 PM) Friday October 15
th
. Boy and girl scouts of all ages are invited to attend, either as a group or individually with their parents or guardians.
Sponsors
The local JOTA event is being sponsored by the Inland Empire Council - High Desert District BSA, with technical radio support from the Victor Valley Amateur Radio Club (K6QWR)
Activities & Events
Primary Activities



Get on the Air (talk to other scouts and radio amateurs on the radio)
Electronics Merit Badge ($5 materials fee required)
Radio Merit badge



Additional Activities offered, pending instructor availability



Amateur Satellite Communication
Amateur Satellite Communication
Radio T-Hunting
GPS and Geocaching activities
CW (Morse Code) Challenge
RC Aircraft Demonstrations
JOTA 2021 Directions
The 2021 JOTA will be held at the old Apple Valley Christian School campus right behind the Redeemer Church at 22434 Nisqually Rd in Apple Valley. The church is apx 300 feet west of the intersection of Nisqually Rd and Central Rd.
For more information contact
President: Greg Rickerl, K6GGR Email - rickerl5@verizon.net
---
Suggested Frequencies for JOTA